Affordable Rental Car Rates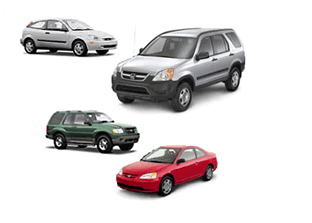 Call us and find out about our weekly and monthly discounted rates!
Book now and Save!
*Rates subject to change without notice*
GPS NAVIGATION UNITS AVAILABLE!

$7.00 PER DAY!
Style
Daily
Weekly
Small (Aveo or similar)
$19.95
$119.95
Economy (Cavalier or similar)
$19.95

$119.95

Midsize (Malibu or similar)
$22.95
$137.95
Full size (Impala or similar)
$29.95
$179.95
Convertible (Mustang)
$79.95

$479.70

SUV (Rogue)
$42.95
$257.95
Mini Van
$59.95
$359.70

Mini Bus**

(14 -16 Passenger)

$109.95

$659.95

Full Size Van**
$99.95
$599.95
Must be 21 years of age
Must provide or purchase insurance or insurance waivers
$250.00 to $500.00 rental deposit required (based on insurance coverage)
Valid driver's license required
Rates are subject to change without notice
Rates do not include: state, local or other taxes or surcharges or additional charges and/or fees
Our Operating Hours are:
Monday - Thursday: 8:30 AM to 5:30 PM
Friday: 8:30 AM to 6:00 PM
Saturday: 9:00 AM to 3:00 PM
Shopping for the best deals? We checked in with our local competitors and here are some examples of what they are charging!
Rent A Used
Small
$19.95
Rent A Used
Economy
$19.95

Avis

(Newer Cars)

Small

$54.00

Enterprise

(Newer Cars)

Small

$28.97

Budget
Small
$41.00